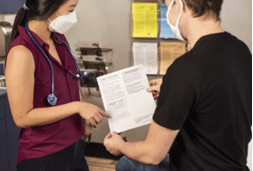 What is HIPAA and how can it be violated?
HIPAA stands for "Health Insurance Portability and Accountability Act".
This federal law was enacted in 1996 to protect Patient Health Information (PHI) from being disclosed without the patient's consent or knowledge.
Anyone who has access or comes in contact to this protected health information is required to ensure this information is only provided to those who require access.
Individuals requiring access could range from the doctors who treat the patients to the mailing staff who process outgoing mail.
HIPAA Requirement Related to PHI
Individuals handling PHI information are required to take courses that teach who and what information is authorized to be shared.
There are certain rules for each approved method used for sharing PHI information, such as encrypting emails or using secured phone lines. Though emails and phone calls are quick and easy, there are many security risks associated with them, so many organizations choose to communicate mostly through mail. While sending PHI documents by mail avoids many risks, there are common mistakes that could lead to violations.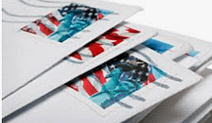 Pages Stuck Together
Static, humidity, and technical issues can cause pages to stick together and be folded and inserted into an envelope together.
This means a patient's PHI could end up going to the wrong address. When handling large mailings, pages sticking together is most always a risk.
Tips to Minimize Pages sticking together
To reduce static, use an inkjet printer for documents that are processed with a folding/inserting machine.
Paper and envelopes should be stored in a climate-controlled environment.
Ensure your equipment is in working order and properly maintained.
Envelopes produced should be validated to match the document volume.
Document Accuracy
Purchase and use barcode /scanning software and equipment to guarantee the correct documents go into the correct envelopes. This is a more expensive option, but can also provide peace of mind, especially when handling very high volumes or multiple number of pages per envelopes.
Discarding Mail Improperly
Misprints, overprints, and unwanted mail containing any type of PHI should be disposed of properly. Just like an old credit card, you do not want this information getting into the wrong hands. This information should always be shredded before being thrown out or recycled. For extra security, you may want to reach out to a professional secured document shredding agency.
Personal Information visibile in envelope window
One of the easiest violations to overlook is PHI being visible through the envelope window. Any identifying information other than the name and address such as an account number, date of birth, appointment information, etc. should not be visible through an unopened envelope.
It is important to remember that documents can move around in the envelope.
To ensure only the name and address are always visible, tap the envelope on each side and check what is showing through the window.
Sometimes refolding the documents can resolve this, but if you still have issues, make sure to space the address block far enough away from any other identifying information.
Pitfalls of Using Postcards
Postcards are convenient to use, but when using them to send out appointment reminders, they can become problematic. Regular two-sided post cards can be used if you are sending out a generic reminder to set up an appointment.
If your card contains any specific appointment information, this is considered PHI and should not be visible from the outside. One alternative option could be to use a greeting card format with a flap and make sure all open edges are securely shut.
The other option, which may be a safer solution, would be to use envelopes with your postcards.
Using Discount Postage when Mailing PHI
Marketing Mail postage such as Marketing Mail or Nonprofit Mail, is the least expensive method of sending out large quantities of mail.
When sending out large mailers, it is very tempting to use this discounted postage for savings, but if this mail includes PHI, you must use First-Class postage or higher.
Marketing Mail is the service with the lowest service level available through the post office and does not provide any return mail services… therefore, it is very important to always send any mail, including PHI, as First-Class or higher.
If you send out large amounts of First-Class mail regularly, consider utilizing a presort service for additional discounts.
Not Verifying Mailing List – Importance of USPS National Change of Address
Although it is not a requirement with First-Class Mail, it is important to verify your mailing lists against the USPS National Change of Address (NCOA) database. According to the US Census Bureau, 31 million people move each year, and it is important to ensure your mailing address captures any changes to an individual's address. The USPS certifies Mail Service Providers (MSP) who provide NCOA services.
Using the results of address verification with NCOA processing you can either update your mailing address or reach out to recipient to verify the change, depending on specific business requirements or industry regulations.
Personalized Letter in the Wrong Envelope
Personalized mailings utilizing a pre-printed envelope or mailing labels. These mailings create a risk, as the envelope contains personal information that does not match the name and address on the envelope.
This is a serious breach of PHI regulations, as someone will receive PHI information for someone other than themselves. Although some may feel this type of mailing is more personal and preferred, the risks need to be considered.
The safest way to avoid this mishap is by either making the letters non-personalized if possible, or by including the address block on the letter itself, allowing it to show through the envelope window. With this method, the name and address are only printed once.
Conclusion
From treating patients within the hospital, to mailing information to their homes, each step is just as important as the other when it comes to the security of Protected Health Information.
"Many HIPAA violations related to PHI information are the result of negligence"
Performing an organization-wide risk assessment would be a smart move for all businesses. Taking the extra precautions and focusing on details that are normally overlooked can prevent your organization from facing financial penalties, criminal charges, and damage to the organization's reputation.
Make sure you do your research before acting, reach out to the experts and educate those around you. The more effort you put in now to minimize risk will save you important time and money in the future. For standard HIPAA rules and guidelines, you can go to: https://www.cdc.gov/phlp/publications/topic/hipaa.html.
Onsite Management Group's team members are required to hold a current HIPAA certification. We preserve the confidentiality of protected health information (PHI) through every phase of printing, mailing, fulfillment, shipping, and delivery.
We certainly don't want to say we may be back there again, but when the Covid-19 lockdowns began in early 2020, everyone was forced to adapt and find new ways to survive the sudden change in priorities.
Businesses were forced to operate in survival mode. People became more creative in their pursuits. Whether it is a pandemic, a power outage, wildfires, or some other kind of a natural disaster, here are some ways that you can increase your flexibility to adapt to evolving global challenges.
Whether we are talking about your own personal passions, or your business' core strengths; focusing on doing what you do best makes the most of your resources, your expertise, and your assets. You may have to scale back or ramp up your efforts in a sustainable way in the short term, but it helps you to weather the storm, and ensures survival in the long term.
If its supply interruptions, take an inventory of what you have and try to ration it out or figure out how long you can do business as usual. Reconsider any discretionary spending you have planned and place it on hold if possible. Try not to make any drastic decisions and try to balance your decisions with at least a thought towards your most sustainable option.
Just as companies utilize doctors, lawyers, bookkeepers, accountants, janitorial services, etc., there are times when it is much easier and sometimes more economical to create relationships that align with your best interests and trajectory.
Identifying your limitations and weaknesses will free up more time and provide you the ability to ramp up or down your service levels quickly and give you additional leverage when you need it most.
Building relationships with other companies before the disaster could give you varying degrees of leverage when disasters strike. The better the relationship the greater advantage and increase the odds of a successful outcome.
Don't Panic by Planning for Success and Planning for Failures
We all suffer from a fear of the unknown to some degree or another. The easiest way to avoid panicking is to be prepared. That is why we have fire drills in schools, earthquake drills, tornado drills, lifeboat drills, lockdown drills, and even flight safety demonstrations every time we fly. These have been proven to save lives when an emergency happens. That is why so many companies take the time to create, distribute and practice a plan for most emergencies.
An ounce of prevention is worth a pound of cure. Having a plan, keeping it updated, and doing the drills helps to maintain order and avoid panic. You may never need to implement it, but having a plan becomes invaluable when you need it.
It is a good idea to have off-site or cloud back-ups, a contingency plan for an alternative base of operations, and even an emergency phone tree or group text message list.
Contacting your team quickly can help them avoid entering a dangerous situation. It is also a great idea to have your team members send an email or text just to let you know that they made it home safe in certain situations.
Don't get bogged down by what you cannot do. Brainstorm with your team and find alternative opportunities to remain functional.
Restaurants adapted during the lockdowns, they found new ways to reduce losses and survive the challenge. One local Chinese restaurant started selling eggs to customers, as they had a lot of them on hand. Others offered takeout, curbside service.
Sometimes it is as simple as adapting what you already have but used in a new and more advantageous way. Sometimes it is doing whatever it takes to hunker down until the storm or challenge has passed.
Communicate With Your Team
Open a dialogue with your team and offer incentives for suggestions and creative ideas. Most people will respond favorably when asked for their opinion and input. Making it a competition may also increase participation. This can be a great way to find innovative ways to save money, find a new direction to expand, or even a simple way to modernize and update the way things are currently handled.
Just because someone is hired to do one job for you, you never know what other talents they may have to benefit the team. Give your employees a chance to shine, and then be sure to give them praise and credit for their input.
While every situation is unique, I think we all can find inspiration while looking for creative approaches that may help resiliency, flexibility, and find the right balance to succeed through unexpected obstacles in this ever-changing world.
Technology is constantly impacting our daily lives in nearly all aspects. How we manage our finances, access entertainment, shop and communicate with one another is done through technology more often than not. The impact of technology regarding mail has perhaps been more significant than most other areas in our lives.
Bills are received and paid electronically, marketing of products are ever-present in our digital world, and of course, handwritten cards and letters are mostly a thing of the past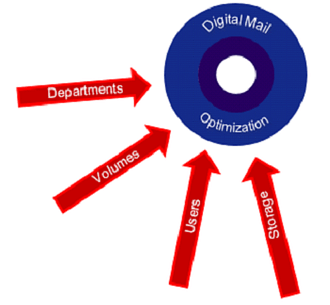 Adapting Mail Services to Digital Process
Mailrooms certainly have not been immune to the impact of technology, with shrinking volumes of both incoming and outgoing volumes and greater demands on services reflect the nature of today's business.
How does a mailroom remain relevant and keep in step with today's realities? More often than not, the answer is digitalization. Digitalization has different meanings, different levels of complexities and functionality.
Is Digital Mail Processing Right for your Organization?
There are questions that should be considered before determining if going digital with your mail center is best for your organization.
What are your current and projected volumes for incoming mail?
What are the sort department/categories used daily?
How many users need access to different documents?
Is there a need for permanent storage of documents received daily?
Digital Mail Process
Scan and e-mail
The ongoing pandemic has forced organizations to adapt in a rapid manner to distribute incoming mail to staff that are no longer in the office. A simple multi-purpose copier can allow for scanning and emailing documents to remote recipients.
This is a labor-intensive process but does provide a 'paper trail' and gives the sender and the recipient the ability to archive, file or discard.
Automated Distribution Options
There are software and equipment options that utilize OCR (Optical Character Reading) or even (AI) Artificial Intelligence processes to automate the process to 'read' the document, determine appropriate recipient, and prepare the document for email delivery.
How OnSite Management Group scans and archives
A scan and archive process allows for mail to be scanned and saved to a secured repository that can be accessed only by assigned individuals or groups. All secured documents can be addressed or processed in a paperless environment.
This method offers the opportunity to digitalize paper files and allow for multiple user access and eliminate time when dealing with misplaced or single use paper files. In addition, this eliminates the potential for documents being damaged or destroyed.
Backlog and current scanning of documents can be processed concurrently through simple prioritization and planning. This provides the opportunity to regain valuable office space by eliminating file rooms.

Security and accountability
Increased efficiency and productivity
Reducing turnaround times
Improved customer service
Reducing costs
Technology and automation
Ease and accessibility for remote workers
The first step in finding out if Digital Mail is for your organization is to request a thorough review of your unique environment, along with what outcome you desire.
A digital mailroom can be a way to process the incoming documents that enter your organization faster and more efficiently.
Accountable mail is mail that requires a signature upon delivery. This mail is able to be tracked and provides confirmation that the mail has been delivered. Priority Mail and Priority Mail Express, as well as First Class Packaging Services, provide tracking services.
There are required materials and forms necessary to utilize USPS Accountable Mail Services.
Registered Mail vs. Certified Mail
Registered Mail is very useful if you plan on sending out mail with monetary value. This is the most secured mail services, but it comes at a cost. Registered Mail maintains chain of custody through the delivery process, which increases the delivery timeframe.
Registered Mail allows you to declare the value of the contents of your mailpiece. The declared value determines the postage. Following are the current fees:
Registered Mail Current Fees
Declared Value is 'true' value; a $25,000 check has the value of the paper it is printed upon.
| Value | Fee (in Addition to required postage) |
| --- | --- |
| $0.00 | $10.00 |
| $100 | $12.10 |
| $500 | $13.30 |
| $1,000 | $14.50 |
| $2,000 | $15.70 |
| $10,000 | $25.30 |
| $20,000 | $37.30 |
| $25,000 (Max) | $42.10 |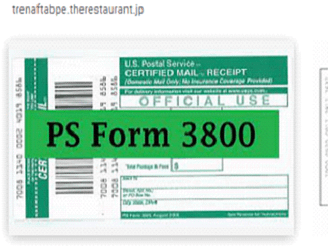 Certified Mail provides the sender with the ability to track mail in transit. Certified Mail is mail within in First Class Mail Service level of one to five days depending upon distance and location to delivery point.
This is the least expensive method of tracking mail and obtaining a POD (Proof of Delivery) from the USPS. Before choosing this method, it is important to realize that you cannot insure this mail. It is traceable, so if lost or misdelivered, most of the time it is easy to track down.
As of 8/2021 certified mail currently costs $3.60 per letter, in addition to normal postage. PS Form 3800 must be filled out and attached to the envelope prior to mailing.
Return Receipt Service
Senders can also purchase optional ReturnReceipt service for their registered or certified mail at an additional cost. Return receipt service cost for Registered Mail is $3.05, effective 8/29/21 and is $1.85 for Certified Mail effective 8/29/21, in addition to required First Class postage and extra service fees for registered/certified mail per piece.
Return receipts provide the sender with proof of delivery, including the signature of the recipient, information about the delivery address, and date and time of delivery. The USPS will retain the electronic information for up to 2 years. When a return receipt is requested, the USPS will not deliver your mail unless a signature is obtained.
Certified Mail Options
Certified Mail Service
Description
Additional Fee
Certified Mail without Return Receipt (Tracking only)
Track a mail piece via USPS.com and see when it was delivered, or when an attempt to deliver was made. You will not be provided with a delivery confirmation receipt or signature.
$3.75
Effective
8/29/2021
Certified Mail with Electronic Return Receipt (E-Certified)
Track a mail piece via USPS.com and receive a PDF file of the delivery confirmation receipt and recipient signature directly to your email.
$5.60
Effective
8/29/2021
Certified Mail with Hard Copy Return Receipt (PS Form 3811)
Track a mail piece via USPS.com and receive a PDF file of the delivery confirmation receipt and recipient signature directly to your email.
$6.80
Effective
8/29/2021
For legal, financial, and other important documents that have delivery deadlines or require PODs, e-certified mail will be your least expensive and most efficient option.
Clutter-Free:
With most organizations moving to clutter free digital filing, the USPS has made it easier than ever, allowing you to have a POD emailed directly to your inbox.
Easy to Use:
The difficulty of having to fill out the PS Form 3811 for Hardcopy Return Receipts has also been removed so all you have to do is keep the tracking number.
Efficient:
Instead of waiting for the Hard Copy Return Receipt to be mailed back, your POD is available online as soon as the mail piece is delivered.
Less Expensive:
E-certified return receipt costs $1.10 less than the hard copy return receipt.
How to Send E-Certified (Step by Step)
Place the barcode portion of the sticker on the top, middle, front section of the mail piece and add postage on the top right as shown below:

Keep the small strip with the tracking number as your receipt.
Once the mail piece is scanned, you will be able to track its location with your tracking number via https://tools.usps.com/go/TrackConfirmAction_input.
For a PDF version of your return receipt, click "return receipt electronic" and enter your e-mail. It will be sent directly to you.
"Save as" to your electronic file or print to add to your paper file.
Many businesses rely on customer response to function. These responses can come in different forms such as phone calls, e-mails/online submissions, mail, or even in person visits. Each method targets different groups, but many organizations have found using a combination of these techniques can generate the largest volume of responses.
If your company sends out a large amount of mail every day and expects customers to respond, there are a few different variations of reply mail you can offer your customers.
BLOCK: What can your business expect with its mail options?
Reply Mail Options
Customer pays postage and provides envelope
This is the least expensive option, but also creates the most work for your customers. This could result in a lower volume of response via mail.
Courtesy Reply Mail
This method can generate a higher, and more timely response through mail by supplying the customer with a pre-addressed envelope. The customer will only need to supply the postage.
Stamped Reply Mail
By stamping the pre-addressed envelopes yourself, you can increase the odds of the customer replying drastically, since there will be no costs associated with responding through mail. This will require full retail, first class postage regardless of whether the customer responds or not.
Meter Reply Mail
If you have a postage machine, you can apply discounted postage on each preaddressed envelope. Meter Reply will net a savings of $.05 per envelope effective 8/29/21.
Business Reply Mail (BRM)
Business Reply Mail is the most beneficial, when the need to get a response from the customer is more important to the business than it is to the customer. You will only pay postage on the pieces that are used by the customer, but you will also be required to pay additional fees.
With the additional fees and costs associated with Business Reply Mail, this may not be the most cost-effective option for your organization. Basic math skills and understanding the costs and fees associated with Business Reply Mail are all you need to intelligently decide whether Business Reply Mail is the best solution for your organization.
Listed below are the USPS BRM 1-ounce letter rates effective 8/29/21:
Basic BRM
Recommended for those expecting fewer than 914 replies annually
Fees: $265.00 annual permit fee
Postage: $0.58 + $0.92 per piece
High-Volume BRM
Recommended for those expecting more than 914 replies annually
Fee: $265.00 annual permit fee and $800.00 annual maintenance fee
Postage: $0.58 + $0.11 per piece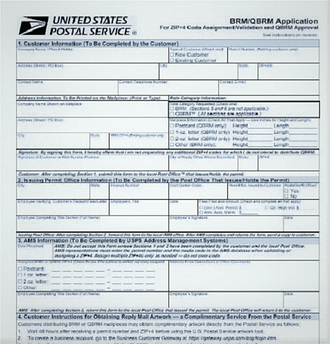 Basic QBRM (Qualified BRM)
– Recommended for those expecting 575 replies or more annually with automation compatible envelopes
Fee: $800.00 annual maintenance fee
High-Volume QBRM (Qualified BRM)
– Recommended for those expecting 40350 replies or more annually with automation compatible envelopes
Fee: $800.00 annual maintenance fee and $2675 quarterly fee
Postage: $0.561 + $0.016 per piece
Reference: USPS Price List – https://pe.usps.com/resources/PriceChange/August%202021%20-%20Notice123.pdf
*By knowing the average volume of mail piece sent out and the average percentage of replies received back, you can determine the cost for postage and fees*
BRM Cost Calculator Examples:

USPS BRM Regulations/Restrictions
For mail to qualify as Business Reply Mail, several steps must be taken beforehand:
Step 1: Create an account PS Form 6805 must be filled out and submitted to your local Mailing Requirements department. This form must have the assigned company name and address that will be printed on the envelope. They will create your account, assigning you a permit number and a unique zip+4 based on your post office, not your mailing address. https://about.usps.com/forms/ps6805.pdf

Step 2: Create envelope artwork

– Email a copy of the completed form to ⦁ mda@usps.gov requesting artwork for Business Reply Envelope. With this information the mail piece design analyst will be able to design and send you back an electronic copy of the BRM envelope artwork needed to print your own envelopes. Business Mailers who have a USPS Business Gateway Account can create art work without using Mailpiece Design Analyst (MDA) at https://abrm-prod.usps.com/ABRM/secure/welcome.do. You must have a Mailer ID (MID) and Customer Registration (CRID)

Step 3: Pay permit and fund your account

– Since this is a prepaid account, you will need to make sure your permit fee is paid annually and that your account has funds in it for automatic charges.

Step 4: Print and begin mailing!

– For additional information on BRM regulations and envelope artwork guidelines: Quick Service Guide – https://pe.usps.com/cpim/ftp/manuals/qsg300/q505.pdf
In Conclusion
Before jumping into something new, it is always important to weigh your options. How will this impact the productivity of your organization?
Will creating a simple, easy and free process create responding through mail easier and will this boost response time and volume from your customers? Will you be able to reach customers that typically won't respond otherwise? Is the cost of Business Reply Mail too high or will you end up spending more money on postage without BRM?
Though some of these questions may be difficult to answer, having the knowledge behind what makes BRM so effective for other organizations can be enough to decide. It is also important to keep in mind that some scenarios are more complicated than others and may require seeking consultation from mailing experts.
Your local USPS Mailing Requirements is also a valuable resource and are always willing to assist with your next steps or addressing questions with your specific business needs.
If you're like me, when you first hear about bulk mail, you think it's fairly self-explanatory. You mail in bulk – you get a discounted postage rate, right? It's a large mailing so you would expect with anything, a larger quantity should equal larger discounts, right?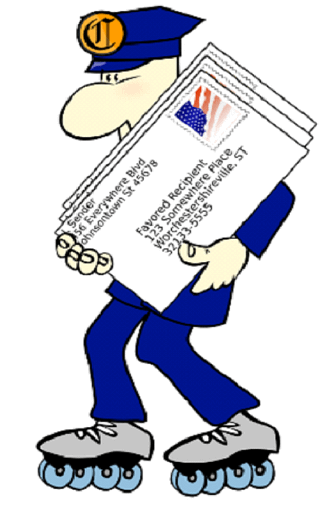 While that is partially correct, other factors can impact commercial discount availability. The USPS doesn't only necessarily care about the quantity of letters; they also care about processing time. The USPS offers Workshare Discounts based upon the mailer preparing mail in a manner that eliminates production steps for them in processing a mailing.
If you want to maximize your postage discounts with large mailings, you not only need to know what bulk mail is, but how it works as well.
What is a Bulk Mailing?
A bulk mailing is composed of any domestic mailing with 200 or more identical pieces each weighing less than one pound to qualify for "USPS Marketing Mail" rates. If the content has anything unique other than name and address or if the mail pieces have any monetary value within them, the mailer must be sent out at First Class rates. If your mailing meets these requirements, there are two options, "USPS Marketing Mail" and "USPS Marketing Mail Nonprofit". If you can provide evidence that your organization is not for profit, you may apply for a Nonprofit permit for the largest postage discounts offered. If not, USPS Marketing Mail rates are still available and still provide a substantial discount compared to First Class rates.
A downside to Marketing Mail rates is reduced delivery standards, so you can expect delivery to take between 3-14 days depending on mailing regions. It is important to note that possessing a Nonprofit permit does not automatically allow you to mail anything at Nonprofit rates.
You must prove each individual mailing is designed for Nonprofit purposes. You risk losing your Nonprofit permit if you mail items not intended for Nonprofit purposes.
Unfortunately, qualifying as a bulk mailer isn't all you have to do to get the discount. The more work you do, the cheaper the rates will be.
Here is a step-by-step process of what it takes for your mailer to be accepted under marketing mail rates:
PS Form 3615 must be submitted either in person or through a USPS Business Customer Gateway account. You will need to have a Mailer ID assigned by the USPS to obtain a permit. After approval, you will have to set up a prepaid "permit imprint" account that will be charged for all mailings.
Preferred Method

– If you are printing your own addresses:
Your address list must be verified by the NCOALink (National Change of Address Link) Database through a USPS approved NCOA vendor. This will clean your mailing list, removing any vacant addresses, changing any recent moves within the past 2 years, and adding current zip+4.
Your verified and updated mailing list will then need to be presorted. A presorted mailing list will be sorted by zip code, giving each mail piece a tray number and sequence number. It will also provide you a barcode to print with the address adding additional discounts for machinability.
Upon printing addresses, mail pieces must be placed in their respective designated and labeled trays and packaged up to be delivered to your local Business Mail Entry Unit (BMEU). They will require paperwork or an electronic submission of the PS Form 3602. Mailing must be accompanied by USPS PS Form 3602 either in paper form or submitted electronically.
Alternative Method

– If addresses are pre-printed on envelopes before mailing lists are presorted, the mailing will require either hand or automated sorting to prepare the mail to achieve automated workshare discounted rates.
Most of the time this mail is cheaper to send out First Class or enlist a presort mailing vendor to process it for you. Hand sorting is cost prohibitive due to the time required while automated sorting typically requires a third-party vendor with necessary equipment for sorting.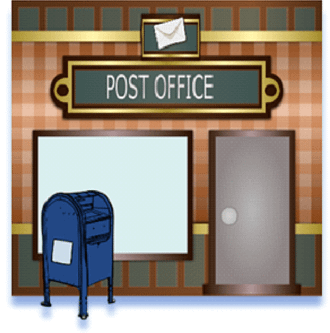 A lot of variables go into calculating the overall cost for bulk mailings including the type of facility your mailings are submitted/dropped off to (entry point), the sortation distribution area (5-digit zip or AADC), proper barcode, barcoded correctly (automated or non-automated), machinability, and whether your organization possesses a Nonprofit permit and if your mailing qualifies for nonprofit status through USPS.
Below is a simplified chart for machinable letters weighing less than 3.5oz each based on USPS Postal Explorer https://pe.usps.com/PriceChange/Index#PriceChange
Note:
Eligibility for Automation Work Share discount requires a USPS approved IMB (Intelligent Mail Barcode)
5-digit: all pieces are being mailed to same full 5-digit Zip Code
AADC (Automated Area Distribution Center): all pieces are being mailed to the same service area
Mixed AADC: pieces are being mailed to multiple service areas
USPS Marketing Mail
3.5 oz or less
Automation
Non-Automation
Entry Point
5-Digit
AADC
Mixed AADC
AADC
Mixed AADC
None
0.277
0.309
0.330
0.323
0.336
DNDC
0.256
0.288
0.309
0.302
0.315
DSCF
0.250
0.282
–
0.296
–
USPS Marketing Nonprofit
3.5 oz or less
Automation
Non-Automation
Entry Point
5-Digit
AADC
Mixed AADC
AADC
Mixed AADC
None
0.146
0.178
0.199
0.192
0.205
DNDC
0.125
0.157
0.178
0.171
0.184
DSCF
0.119
0.151
–
0.165
–
What About Non-Identical Mail?
For mailings that are not identical, have material with monetary value, have any personal identifiable information other than name and address, or require expedited service quicker delivery times, this mail must be sent out at First Class rates.
There is still an option for a discount if you use presort First Class. This mail A mailing contain must be 500 pieces or more and be sorted by zip code, similar to that of marketing mail. It does not need to be in sequential order though. Below is a simplified chart for machinable letters weighing less than 3.5oz each based on USPS Postal Explorer https://pe.usps.com/PriceChange/Index#PriceChange.
Automation
Nonautomation Machinable
5-Digit
AADC
Mixed AADC
AADC
Mixed AADC
0.426
0.461
0.485
0.461
0.494
The key to success for any organization is a well-trained and well-informed staff that can be counted on each day to meet company expectations. Between the blend of generations, and the diverse levels of expectations that each employee requires, it can be quite challenging to maintain a cohesive team.
Every employee has their own expectations and commitment levels; therefore, the challenge is meeting each of their needs in order to motivate them to be a part of the team's success.
Accepting this reality, it is still possible to assemble a successful team. The following efforts can be effective regardless of the individual.
Define expectations
In a workplace where resources are limited and job openings stretch a team thin, it is easy to rush an employee through the training process and get them quickly doing the job they were hired to perform. This process can certainly lead to frustration and stress for the new hire
To ensure the candidate understands what they are getting in to, defining
expectations begins in the hiring process.
Empower and Encourage
⦁ Clearly explaining hours required, production expectations (whether quotas or deadlines) and performance evaluation parameters, will allow a candidate to feel well-informed when beginning their new position. In addition, once hired, it is imperative that things discussed during recruiting, will be visible and closely match what they were told during the interview.
Once an associate is trained and fully versed on all aspects of their position,
to take ownership the best thing you can do to ensure long term success is
to empower them to take ownership and pride in their position. Let them
know the value of the work they provide and its value to the success of the
organization.
Acknowledge them through emails or communicate in person that you see their growth and effort and that they are appreciated. Use handwritten notes to provide regular encouragement.
I think we all can remember a time a leader has taken the time to give positive feedback and how much it meant to us no matter how small. Allow them to participate in discussions related to their position and solicit from them process improvement feedback.
Avoid putting a cap on their capabilities
Continue to provide challenges for your team. Create opportunities for them to push themselves beyond what they believe they are capable of mastering. Providing check points and strong mentoring is important to ensure success and helps to avoid stress and disappointment.
Tools to Encourage Staff Development
Allow them to conduct a team meeting, take leadership on new project or having them train in a new area to provide support and back up are just a few examples that can add pride and self-confidence to the associate.
Realizing that each associate is an individual with their own needs and challenges is an important first step in ensuring satisfaction and commitment of the associate.
Workers today are much less likely to accept a rigid employer who does not demonstrate empathy and compassion.
Taking the time to get to know each employee and being open to meeting their needs, when possible, will create a trusting and healthy relationship.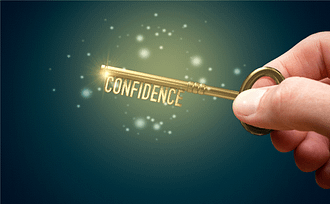 Keys to Ongoing Engagement
Some additional ideas that would show empathy is possibly offering a flexible schedule within the expectations of the workload, remote working on a limited or full-time basis. Creating an environment where two-way communication is encouraged and practiced. It can prevent issues from becoming unfavorable to the associate or organization.
Acknowledging milestones such as birthdays and anniversaries for example go a long way to letting the associate know that they are valued as individuals.
Create a Positive and Pleasant workplace
Providing a positive environment for your employees begins with the leadership team and how they present themselves.
Leadership and management must demonstrate a positive and pleasant attitude regardless of the circumstances.
Stress and negativity are a cancer that spreads quickly among employees.
There is 'Only' Trust in Team
Beyond how we express ourselves, allowing your employees to be themselves and treating them as professional and valuable resources, will demonstrate that you trust them to do what they are supposed to do without constant hand holding.
Some fun ideas to promote a happy and healthy team would be to bring in lunch for a department. Have some quick team-building games, using small giveaways or little gifts.
Provide an environment where individuals feel a part of something positive and what to participate.
Daily mindfulness and effort to ensure your team feels valued and empowered through strong communication and consistent evaluation of staff satisfaction will generate the tenured and knowledgeable staff necessary for long term success.
THE ONLY Constant is Change!
It was only 150 years ago when we used horses for transportation and candles for light. Today we have cars, planes, and space shuttles. Today we have LED lights that are unbelievably bright and use very little energy.
THE ONLY Constant is Change!
It was only 30 years ago when we had landline phones at home and pay phones in public. Today we have cell phones capable of anywhere communication and unlimited information with as much computer ability as a laptop.
THE ONLY Constant is Change!
Change is inevitable, and so is change in the work environment. People change, computers change, processes change… the world changes. And so, we must change and adapt to survive and grow.
What is Process Improvement?
Process improvement involves the business practice of identifying, analyzing, and improving existing business processes to optimize performance, meet best practice standards or simply improve quality and the user experience for customers and end-users.1
What is Teamwork?
Teamwork is all about
different parts working together to benefit the whole.
Everyone is different and has their talents, ideas, strengths, and weaknesses. When the parts are used properly, a team can be more capable, more efficient, and overall, more successful than someone working alone.2 Being a master of one or a jack-of-all-trades in today's world does not bring about success if you are unable to work as part of a team. The importance of teamwork cannot be stressed enough!
For effective change it is important to understand and use the 3C's:
Communication
The act of linking people together. In management it is a vital role. Unfortunately, "Lack of Communication" is one of the top problems in many organizations.
Coordination
The act of people working together in an organized way. The absence of coordination could lead to an incapability control, confusion between stakeholders, inefficiency in resources usage, and replication of work. Among the main coordination difficulties in any organization is the one between the main office and field units and cultural differences between stakeholders.
Cooperation
The process of shared achievement: Two or more working together to establish shared objectives. Different from communication (to share information), it is about applying information to generate something none of the cooperators can achieve alone. Moreover, the opposite of cooperative is competitive.
A typical workflow for process improvement includes:
Provide information about the upcoming changes (The "What")
Explain the benefits of the change (The "Why")
Involvement with everyone effected (The "Who")
Schedule of events (The "When and Where")
Feedback
Of all the things discussed, COOPERATION/TEAMWORK is the most important. It is important to understand that not everything can be simulated, and problems/disruptions may occur during implementation.
Of all the things discussed, COOPERATION/TEAMWORK is the most important. It is important to understand that not everything can be simulated, and problems/disruptions may occur during implementation.
COOPERATION/TEAMWORK is the key to make the plan work effectively and to overcome problems that may arise.
We can learn a great deal by listening to others about Cooperation/Teamwork:
"If everyone is moving forward together, then success takes care of itself." – Henry Ford
"The ratio of We's to I's is the best indicator of the development of a team." – Lewis B. Ergen
"Coming together is a beginning, staying together is progress, and working together is a success." – Henry Ford
"Great things in business are never done by one person; they're done by a team of people." – Steve Jobs
"The way a team plays as a whole determines its success. You may have the greatest bunch of individual stars in the world, but if they don't play together, the club won't be worth a dime." – Babe Ruth5
As you may have seen in the news, there are a lot of changes being made to the United States Postal Services. Many people and businesses are concerned whether or not they can trust the USPS to handle their valuable and important correspondences.
They are also wondering why prices continue to increase. We unfortunately cannot control government budgeting decisions, but we can do our part to increase the efficiency of the USPS and ensure our own mail can be processed easily by USPS sorting technology.
If you've ever worked in a mail sorting facility, small or large, you've probably seen how much time it takes to hand sort mail, especially when items aren't labeled properly. You have probably also seen how quickly work gets done when it's automated, compared to manual labor.
Automation is the key to getting the best services available through the USPS. Automation provides the opportunity to gain the following results:
Improved processing time
Less manual Labor
Reduces Human Error
Improved Accuracy
Reduced Return Mail
Overall, the main goal is to utilize USPS technology to gain the optimum quality, service and delivery times
The following items are critical to ensuring mail is automation capable through USPS automation equipment.
1. Address Placement and Orientation
For the USPS Mulitline Optical Character Reader )MLOCR) to read a delivery address, it is best practice to place the address in the center of the envelope. Your envelope must also be oriented landscape, Left-Justified so each line starts at the same point. The address must not be within ½ in from the sides, 5/8 in from the bottom and must not be over 2-3/4 from the bottom as shown below.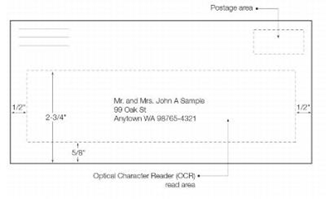 Cooperation
The more information you provide, the more accurate the delivery will be. If sending to a company, you should include both an attention line with the specific recipient's name and the company/department name. The address needs to be complete with suite numbers if applicable.
Instead of writing out the full state name, make sure it is abbreviated correctly. If you have the zip+4, include it. This will give the exact delivery point, making it much easier to process. If a Zip+4 is not available always at least include the 5-digit zip code. The MLOCR reads from the bottom right to the top left so it is important that you place the city, state, zip on the bottom line.
2. Type or Print When Possible
Though you may have immaculate handwriting skills, it's hard to compete with the precision of printers. Avoid writing the address as much as possible. If you do need to handwrite, make sure it is clear and legible.
Though cursive looks nice, the USPS prefers not using cursive format. For optimal readability, print either directly on the envelope or onto an address label. Using dark ink on a light background is preferred.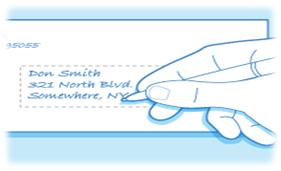 Be cautious with flashy fonts and punctuation. Punctuation, unusual fonts, or word emphasis techniques can impact the MLOCR's ability to accurately read the address. It is best to stick with basic and consistent fonts. Simple sans serif is preferred, such as "Arial". Steer clear from bold, italics, and underlines.
Don't use periods, commas or any other punctuation other than dashes in names or when using a zip+4. Use two spaces between the state and zip code and one space between all other words/numbers. Font size should be at least 10pt, and no more than 12pt. It is also best to use ALL CAPITAL LETTERS.
3. Always Include Your Full Return Address
If for any reason the delivery fails, the only way USPS has to inform you about it is by returning your mail to the return address. Many things can happen, such as, the address being vacant, the recipient moving, mail getting refused, missing suite numbers, etc… If you prefer that your mail isn't discarded, then always include a full return address in the top left corner of the envelope.
4.Don't Overstuff and Seal Thoroughly
While running envelopes through machines, they can sometimes get snagged and ripped. The best way to prevent this is by preparing your envelope properly. Standard envelopes are not meant to hold more than 7 regular sized tri-folded sheets. If you are sending more than that, use a larger envelope. It's also important to seal or tape your envelope thoroughly. If any metal clasps are showing, tape them down.
5. Use Correct Postage
Whether you meter mail or use stamps always make sure you are doing your best to keep up with the rapidly changing postage prices. It is important to check the specifications for class and weight before applying postage to your mail piece.
For current prices, visit https://pe.usps.com/text/dmm300/Notice123.htm
6. Verify Addresses
For businesses, if you maintain larger mailing lists, it may be worth it to get access to National Change of Address (NCOALink) Database software to cleanse your lists through a USPS approved NCOALink Service Provider. Running your mailing lists through the NCOALink will flag all addresses that have been changed due to moves or vacancies. This will also provide you with current zip+4 information.
7. Prepare for Unavoidable Delays
Some delays are inevitable so if you prepare for them, you will be less likely caught off guard. Certain things such as distant or remote delivery locations, holidays, or shutdowns can cause delays in delivery times. Plan ahead if you believe something outside of your control will affect your delivery times.
Though there are certain events or situations that we do not have control, following these guidelines can greatly improve accuracy and delivery times for your mail. For more information about addressing envelopes visit https://pe.usps.com/text/pub28/welcome.htm.